SNF, Samfunns- og næringslivsforskning, is part of the NHH-Group, dedicated to the task of initiating and undertaking contract research. We conduct research and research based studies for central decision makers in private and public sectors.
---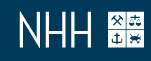 The Norwegian School of Economics, Norges Handelshøyskole, or NHH, is a business school situated in Bergen, Norway. It was founded in 1936 as Norway's first business school and has since its establishment been a teaching and research institution primarily in the field of business administration.
---
The Norwegian Finance Initiative (NFI) aims to strengthen financial economic research and education in areas relevant for the long-term management of the Government Pension Fund Global.
---

Jan Wallanders and Tom Hedelius Foundation, as well as Tore Browaldh's Foundation, aim to support social science research mainly within economics and economic history.